Made with Alexander Leisner.

BRIEF:
Build a new vegan yogurt brand.
RESEARCH:
We found out that DTU (Denmarks Tech University) invented a vegan yogurt only with three ingredients.



I went to visit the inventor Claus. He is a senior researcher at DTU.


He explained the ingredients to me (one was a waste product from beer). He also told me that it's easier to make it into a drinking yogurt because of the texture.

Claus mentioned that the taste was a little grainy, and he suggested that coffee flavour would be a good mix with the yogurt.

We though that this brand should have a Science-vibe to celebrate Claus and DTU. We decided to call it START™, because it's made with starter culture, it's for the start of your day and we wanted to target people working at start-ups.

To make sure, that everyone starts on the same page, we wrote a MANIFEST:

We want a fresh Start™!

The world is stuck in old habits and hopeless ways of working.

That's why we strive to foster a better planet by making a drink that combines eco-friendly ingredients with brand new technology.

Our goal is to support those who want to make a difference and the ones who pursue their dream.

Start™ is a plant-based vegan drink with a twist of coffee to kickstart your day!

Too good to be true?

No. We're actually just getting Started.



We took Claus' advice and made a coffee-flavoured drinking yogurt, to start everyones day off just right. These are the FLAVOURS:
Every yogurt needs PACKAGING. We wanted it to be simple, sleek and clean. Like the product and the lab it came from.

All the little symbols are telling a story about the product.
For example the little scientist at the top are Claus the inventor.

We also made Corona-friendly virtual PACKSHOTS:



START™ needed a WEBSITE and we wanted it to be simple like everything else, but at the same time easy and fun to navigate in:


For the curious ones, these are ALL THE WEB PAGES ON MOBILE and the WEBSITE ON A COMPUTER:
An INSTAGRAM PROFILE is crucial in these digital times. This one is filled with relevant facts on the brand and a mix of other brands we wanted to give a shoutout for having a great start: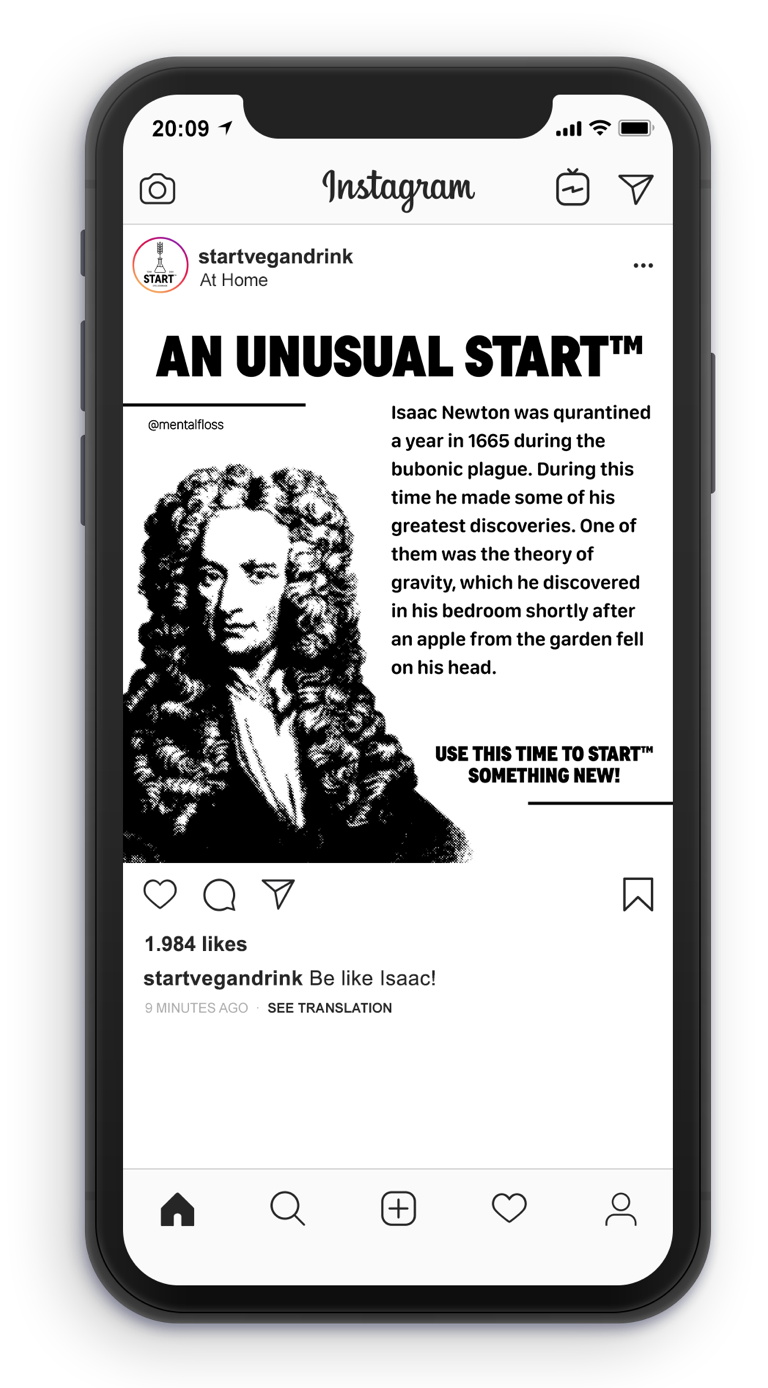 During the LAUNCH, we wanted to create awareness for the brand. By doing a collab with Carlsberg (one of the ingredients is a waste product from beer, remember?) and also giving our target group the tools to a good start. We spread awarenes and informed people that there's a new vegan yogurt in town: